Chrono Trigger is a game about time travel and saving world(Aren't they all like that?). Well anyway, there are 7 different time periods you can travel too. 65,000,000 BC, 12,000 BC, 600 AD, 1000 AD, 1999 AD, 2300 AD, and the End of Time. Every time period has a signifigance to the story. 65,000,000 BC is where Lavos first appears on this earth. In 12,000 BC is where the people first start to use Lavos' energy for their own purposes, such as magic and health. 600 AD is the time era that we can find Magus, a warlord that has waged war on the humans. He has threatened to summon Lavos on the human race to exterminated it, or is he? When you meet up with him and fight him, the second time in 12,000 BC, he has an interesting story to tell you. 1000 AD is where you, Crono, are from. It is a peaceful year as it is the new millennium, and there is even a small festival celebrating it. 1999 AD is the year Lavos comes out and attacks the world. The world has little home for survival, so that is wherer you come in. Your job is to fight Lavos here, nothing else, to help the human existance. 2300 AD is where Lavos has already consumed most of the world's energy. You come here before you go to 199 AD so you weren't there to defeat Lavos. All the roads, labs, and domes are destroyed here because of Lavos. The End of Time is the place where you can rest and get you HP/MP levels back up to full. You can find two characters of importance here, Gaspar, the guru of reason, and Speekio, the master of war who also gives you magic for the first time. Throughtout all the time periods you can have access to 7 charatcers. These are the only characters that are playable. o there is NO way to find Schala and make her join your party and the same goes for Cyrus. He will not join your party. You can find him however in the ruins after you get the wings on Epoch, but anyway, there are 7 playable characters, each with a special type of magic or special capability. Crono is the first character you will get. His magic is lightning and he uses katana swords throughout the game. Marle is the second character you will meet. She has exceptional healing power and can use ice magic well. The weapon of choice for Marle is the crossbow. Marle is fairly weak but she will be needed because of her cure abilities. The third character you will meet is Lucca. She can use guns and will perfect fire magic once you find Speekio. She is also weak with her gun but when you learn flare, it makes up for that. The fourth character you will meet that can join your party is the robot from 2300 AD called R-66Y. Don't worry, you will rename him to Robo(or anything you want). Robo cannot use magic because he has no soul. He is a machine. His physical power is very good and when you learn the Uzzi Punch, he will be even more powerful. Frog is the fifth character that you will come upon in 600 AD. He can use water magic and uses double bladded swords as a weapon. Frog is not the strongest character. His magic is fairly weak as is his physical weapon but he does possess some good healing capabilities. Ayla is a primative person found in 65,000,000 BC. She cannot use magic but she is STRONG! Her fist is the strongest weapon in the game but it will not be upgraded until level 90 or so. Then it will be upgraded at level 99. The last character you will meet is Magus. Magus was the prince of Zeal who was sent to 600 AD through a freak accident by which Lavos made. He will summon Lavos to his castle saying it is to destroy the human race but it is really to destroy Lavos for revenge. When you defeat him he will be sent back to Zeal and pose as a prophet. Then he will fight Lavos and fail. After that you will find him at the new Earthbound Village after Zeal was destroyed by Lavos. Magus has a fairly weak physical attack but all his techs are strong and they are all magic. Once he learns Dark Matter, there is no need for anyone else in your party. For more information about the character click here. In Chrono Trigger, as you travl throughout time, the things you do in the past influence the things that happen in the future. For example, if you tell the girl in 12,000 BC to destroy the seed instead of secretly destroying it, you cannot access the sunken desert and therefore you cannot help Fiona.
Crono
Crono is the main character from the game. He is the character that must lead your party until he dies in 12,000 BC.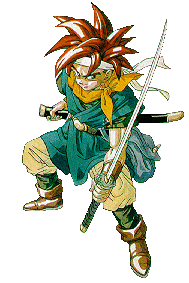 Magic-Lightning
Weapon-Katana Sword
Strength-8
Magic-8
Marle
Marle is the first character besides Crono that you meet. You meet her in the Millennial Fair when Crono bumps into her.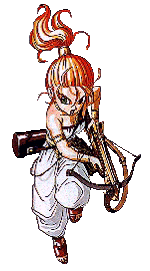 Magic-Ice
Weapon-Crossbow
Strength-3
Magic-7
Lucca
Lucca is Crono's best friend and a skilled inventor. She creates the machine that starts this whole mess with time travel.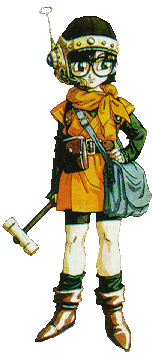 Magic-Fire
Weapon-Gun
Strength-4
Magic-8
Robo
Robo can be found in Proto Dome in 2300 AD. When he is found he is broken down and must be repaired by Lucca. When you do repair him, He will help you defeat Lavos and I geuss in a way he helps you find the End of Time.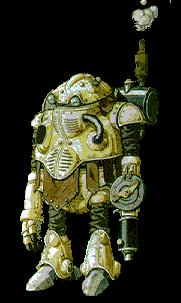 Magic-A type of Shadow
Weapon-Hands
Strength-7
Magic-5
Frog
Frog can be found in 600 AD, first at the cathedral when you go to 600 AD the first time then, you can find him over Zenan Bridge in the cursed woods the second time you go to 600 AD to fight Magus.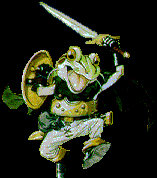 Magic-Water
Weapon-Two Bladed Sword
Strength-6
Magic-6
Ayla
Ayla can be found in 65,000,000 in the Ioka Village where she is chief. Her people are battling the reptiles for survival of the races.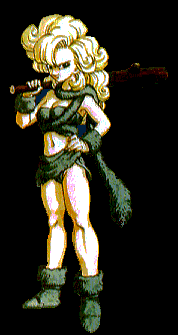 Magic-None
Weapon-Fists
Strength-10
Magic-.....
Magus
Magus is a powerful wizard from 12,000 and 600 AD. In 12,000 BC he is named Janus but when Lavos sends him to 600 AD he goes by the Alias Magus. He wages a war against humans and while in 600 AD fighting against Magus you first learn about Lavos.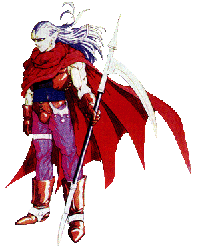 Magic-Shadow
Weapo-nScythe
Strength-5
Magic-10
Unimplemented ISML Tag: TYPE=