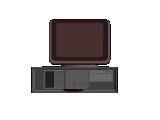 David the Whop's Software Page

Welcome to David's Software page! This page, like the other pages, will get software LINKS, added as the page gets better and I get new things. I emphasize the word links because I do not have the files listed here. All the links are to their official homepages. Do not e-mail me asking for a program.

AOL Instant Messanger-This program is a neat little chat program that allows you to chat with people around the web AND people who have AOL. You do not need AOL to chat with the people who have AOL. It sounds complicated, but its really not. You can register at the website.

ICQ-This is another chat program. It is much bigger than AOL Instant Messanger, but in my opinion, it is not as good. The new on, however, is pretty nice. You should download this if you like to chat.

Netscape Communicator-A good internet browser that allows you to check your e-mail much like outlook express.

Internet Explorer-Another browser. this one also lets you check your e-mail but the process you must go through to configure it to do so can be long. This browser, however, moves a little faster than netscape.

McAfee Virus Scanner-This program is a must for virus protection. If you get it your computer will be pretty safe from virus's. It would be smart to update it everyday since new virus's are being made everyday.

Coffee Cup HTML Editor++-Ok so I do have some programs that are on this page, bit I am still making a link to the actual homepage. This version is only a trial version, but I created this website TOTALLY from the trial version of Coffee Cup.

Microsoft Media Player-This is a good program that allows you to play all kinds of files. It allows you to play Midi's(sound>, Wav's(another sound), Avi's(movies), Mov's(Quick Time Movies), Mp3's(sound) and some other formats.

Voyetra Sound Station-Like Media Player, but allows you to edit the music you make or the music other people have made.

WinZip Self Extractor-This program is a MUST. It allows you to open all files that have a .zip extension and most files downloaded are in .zip format.
Phone Book 95-This program allows you to call people using your computer. Very good, all though you can only use it for 30 days.
Unimplemented ISML Tag: TYPE=